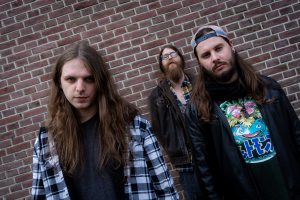 Biography
Hillsphere is the collective around Tim Beimer, Elias Mayer & Kevin van der Reijnst. Musically the band draws from a wide spectrum often seen as a combination of progressive rock and metal with a lot of emphasis on the emotional and atmospheric aspects.
Starting out in the circuit of Amsterdam, Hillsphere made their way up from local performances to bigger venues across the country sharing stages with well known acts such as Pain Of Salvation, Vanden Plas and Soen. After releasing their debut album 'Florescence' in 2018 their international visibility started to grow. Florescence was received with great critical acclaim resulting in high rated reviews by media like Prog, Prog Planet and Metalfan. In June that year they were among the 'most popular artists of the last 24 hours' on Prog Archives for almost a week in a row.
After the Florescence live shows came to an end in 2019, the band stepped out of the spotlights for what was essentially meant to be a couple of months. Due to the long period of lockdowns and restrictions in The Netherlands during 2020/2021, the band decided to stay in the shade for the following period. According to the band this allows them to build out their fundamentals for a long future to come.
Unquestionable musicianship, a good mix of ambient / more heavy sections and Tim Beimer's excellent singing are the highlights of a solid debut'
– The Prog Space
'What we hear is a gifted band laying out their stall with confidence and skill. Now the debut is out, it will be fascinating to see how Mayer and co will shape things.'
– Prog